Social Explosion backup - monthly
SOCIAL EXPLOSION MONTHLY

default order:

224 Social Signals Dripfed Out Over 30 Days
Savings of $5/m

Extra boost order:
448 Social Signals Dripfed Out Over 30 Days

Savings of $10/m

FOR SINGLE SHOT SIGNALS CLICK HERE


GREAT REALISTIC
SOCIAL SIGNALS COMING
TO YOUR PAGE OR VIDEO
More is not always better in SEO

Having real accounts, sharing YOUR niche related items on their profiles
at a steady pace from a huge network of profiles is the
REAL way to use social signals.

Not ridiculous packages
offering thousands of signals when
Google KNOWS there is
no way in hell that it's legitimate!
Get Full Throttle Rankings With REAL
Social Sharing Accounts at a REAL
Sharing Pace.

Think about it!
You know in your gut, this makes more sense!

---------------------
So... What Does Social Explosion Do?

---------------------

AUTOMATICALLY send Tweets, Pins and posts on Delicious and Diigo to

your post or video.

Get Increased Traffic, these social signals are from real accounts
Automatically Builds Links and Increases Domain Authority
Platform Diversity- 4 platforms

No Footprint!  Because the network is HUGE
This service uses an RSS feed that I create for whatever website or video you want. Only exception is I can not take adult material on this one. If you want adult social signals check out my adult social signal service here.
Most recent proof of rankings for a bathroom niche keyword (medium-high difficulty)

THIS IS FOR AN INSURANCE KEYWORD TERM THAT WAS STUCK FOR MONTHS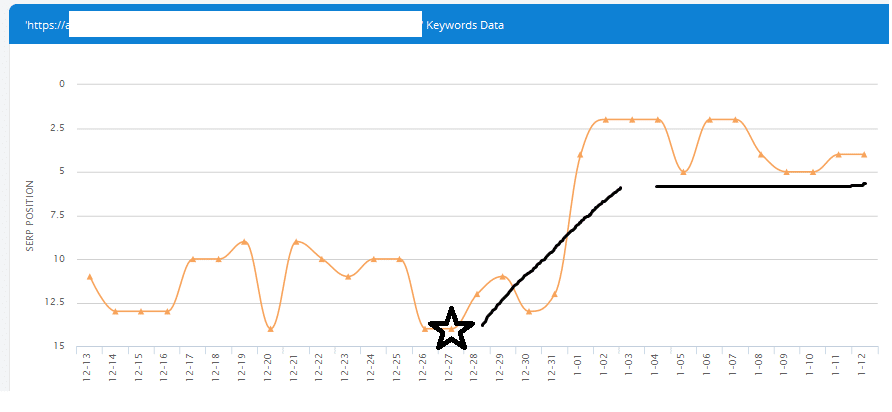 THIS ONE IS FOR AN SEO SITE I'VE BEEN TESTING DIFFERENT RANKING TECHNIQUES ON - AND I SCREWED UP AND USED SE TO GET ME OUT OF TROUBLE (Jan 26 - 2016)
I will take a screen shot of the submission process and give you your RSS feed used to push this into the network.
You will receive a screen shot of the submission process every 12-17 days as long as you remain an active subscriber of SE monthly.
There is no refunds once the order is placed in the system as there is no way to undo the awesomeness.
Plus why would you?
Overall, the results will speak for themselves!
I've used Social Explosion for almost a year now and it's been night and day when it comes to rankings! This is the most solid dripfeed social system that you can use any where! I don't say that lightly either. I can honestly say, this will be the best social package you can buy on Market Source or anywhere online.
Don't believe me? Take the challenge and see for yourself. You'll be happy you did.
-HonorableSEO
FAQ:
Q: How many links can I use?
A: One URL per order
Q: How do I know you posted these links
A: Screen shot, and most times you'll notice some kind of rank improvements.
I will also supply the RSS feed used to push this into the network.
Q: Can this get me out of the Google Catbox?
A: It has shown great capability of doing just that
Q: Does this work well with video?
A: It works so well with video that I also offer this service on my
video embed service
and use this same setup for my very own private and client SEO jobs.
Q: Do you guarantee results?
A: I never guarantee results because SEO is an ever changing battlefield.
Although, I can continue to provide proof as this service continues to work
for myself and my clients. Remember this is only one tactic, as powerful as it
is, is just another tool in your toolbox you can use to gain advantage over your
competition. Use this wisely and I can almost say, I can guarantee your success.
Recurring Instructions From Seller:
It's easiest for me to send you your submission process through e-mail after recurring starts. I will only use this e-mail to send you your submission process. If you want me to submit it through Source Market let me know. Although you'll more then likely have your submission process much quicker if I have an easier way to get it to you. -HonorableSEO Also be sure to like my facebook page, as I'll be offering discounts and special promos for my services that is only available to those who are apart of that FB page. http://facebook.com/HonorableSEO
---
9 hours
AverageResponse Time
---
---
No refunds once it's submitted into the SE network.
Been actively ranking 'regular' and 'adult' pages for 5 years. My specialty is adult SEO and YouTube SEO and have created several adult social networks to blast sites through to increase their social presence! I own http://honorableSEO.com in Denver, Colorado
Other services by honorableSEO