Niche Sniper keywords: ZERO competition keywords (BLACK FRIDAY SALE)
BONUS: Purchasing a keyword from us will let you get access to an underground $1997 SEO package. This package will include FREE whiteboard animation videos, FREE local offline lead generation site generators which are easy to build and sell for $199 a pop and MUCH MORE!

Simply order from us and we'll send you a link to receive this $1997 SEO goldmine absolutely free of charge!


THE ULTIMATE NO COMPETITION KEYWORDS
Was $99, now $20 for a very short time! Grab the zero competition keyword now!
How low competition are these keywords?

These keywords have VERY little competition. They have everything an SEO like you would ever want.
No competition from any SEO or IM individual

Little to not links placed on the sites and has very weak backlink profiles
High product value ($500+ per sale)

Unnecessary pages showing up on the first page of Google




The keywords that I'm selling on Source Market are free from the grasp of SEO and IM individuals. No one in the internet marketing community know that these keywords even exist. These no competition keywords have never been touched by SEO members meaning it is ripe for the taking! Once you grab your hands on these zero competition keywords, you can DOMINATE the entire niche and make serious bank. Here are just a few things you can do with the zero competition keywords:
Create an Amazon niche site
Sell leads to businesses
Drop ship the products yourself
And more!
What can I do with the keywords to make bank?

Fortunately for you, I've written a short and concise guide on what you can do with the keyword to MAXIMISE your return on investment and DOMINATE the entire niche to make passive income from them.


The keywords I'm selling has no competition and is INCREDIBLY easy to rank, no matter how inexperienced you are with SEO. The report I send contains no BS or any secret tactics. It's a no fluff, no BS report on how to use your keyword to maximise your investment and make a profitable site with it.  
To simply put it, if you're a noob in the IM or SEO game, this service is definitely for you. You'll get your hands on a highly profitable keyword and report that could help you make your first stable income online.

All the keywords I'm selling on Source Market have buyer intent, what this means is that people all over the internet are looking for this stuff looking to grab their hands on something they want. This is a GOLDMINE for you as you'll be able to take advantage of these zero competition keywords and start receiving affiliate commissions for the sales made.  These are absolutely useful keywords for Amazon affiliates, but can also be used for guys looking to sell leads to businesses or perhaps build an eCommerce store to sell the products themselves.
No matter what you're trying to accomplish, these keywords WILL make you money.



Putting this in its most simplest format.
These zero competition keywords WILL make you moolah as long as you have the simplest idea of what to do with SEO.
I want to be VERY clear with this. This is in no way, shape or form a guarantee. I don't know you so I can't judge your ability and knowledge of SEO. What I can say however is that this keyword service will make you money 100% if you know SEO, even in its simplest form.
You don't have to be an SEO expert to rank these keywords. In fact, you can rank these keywords even with no SEO experience because I'll be helping you every step of the way.
Check out my RAVING REVIEWS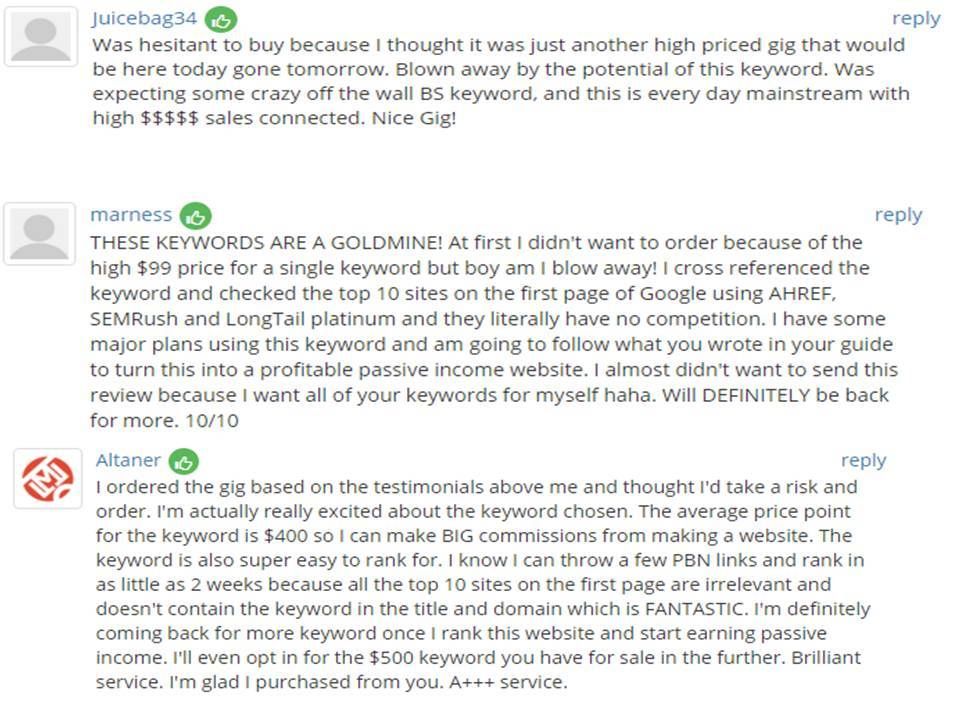 Why am I selling these keywords if they could make me a LOT of money?
OK I'm going to be straight forward here. I'm an entrepreneur. I have wants in life that I want to fulfil. The money generated from the keyword service will help me get start up cash for my business I want to open. Even if the keyword doesn't sell, I won't be shedding a tear because I'll have an army of ZERO competition keywords that I could start a site with and sell for $x,xxx - $xx,xxx down the road.
Why should I buy keywords from you?
OK, I'll admit this. The keyword service I'm offering is quite pricey for a single keyword ($20) but I want you to take this into consideration. My keyword service is the ONLY one in the business here at Source Market that sells truly ZERO competition keywords. It cuts out the time consuming work for you and finds keywords for you that can start generating you money. Even better, you won't have to spend $500+ on SEO packages hoping you'll rank because this keyword service already guarantees no competition keywords that don't require more than $200 to be spent.
Which of these do you prefer?

A $5 keyword service from Fiverr where they hand you any old rubbish with high competition OR a ZERO competition keyword that could make you passive income every month with very little work?
I'm simply handing you a gold bar on a platter here. It's up to you whether you want to take it or not.
Just check out my reviews below and tell me whether this keyword service is just like any other here at Source Market.
Why would I spend $20 on a single keyword when I can do this myself for free?
Yeah sure you can go ahead and find your own keywords. Answer me this though. Would you be able to find truly 'no competition' keywords that have product values of $500+? Even if you do manage to find a keyword that meets this criteria, at what cost do you get it? A couple hundred dollars spent on software, keyword research programs, MOZ, SEMRush and other subscription?
With our service, you're getting a gold plate handed to you on a platter. These keywords cut out the time consuming work of keyword research. You will buy this keyword service with the confidence knowing that these have zero competition and are easy to rank with very little resources and generate you over $500+ per sale.  
What kind of keywords are you selling?
The keywords I'm selling are from random little niches that no SEO has ever thought of. We have made it our aim though to find zero competition keywords that have buyer intent. It's all good ranking for a a zero competition keyword like "cows giving birth" but it has no buyer intent meaning no one is looking to pull out their credit cards and buy a product. We've found a LOT of profitable keywords that have no competition and have buyer intent.

Another thing we look for in a keyword is profitability. The keywords we sell have product values of $500+ meaning you could be making a LOT of commissions on a daily basis like clockwork.
What will you get?
You'll receive one keyword with 1,000 - 2,500 monthly searches which has no competition whatsoever. The keyword has buyer intent and is an Amazon keyword. It will come with a full report on how to monetize the keyword and rank for it.
So what are you waiting for? ORDER NOW!
---
15 hours
AverageResponse Time
---
---
No refund once the keyword is given because of its huge potential and zero competition
Other services by zentagle