Super Authority PBNs - Average TF/CF 25+ and PR 6 Permanent Contextual Links
Get 15 Contextual Links From High TF/CF PBNs @ $67!

For a Limited Time Offer ($4.50 per post)
 




Are you a SEO marketer who is facing problems in ranking your websites? If you are, here's the place where many marketers have bought THE MOST EFFECTIVE METHOD to crush their competitors.

Why choose our links:
They are high quality contextual links from highly trusted domains with a 100% clean link profile.
They are a collection of handpicked domains with an average trust flow of 25+ and average DA of 15+. They were never used for spam and almost never SEO'd keeping them as pristine as you can imagine.
They are previously owned by businesses, charity organizations, clubs, science groups and music bands. Most of them have WIki mentions, edu or gov links and some from powerful organizations too. 
Sites are built with unique themes, header images, graphics and logos to make these sites genuine as possible.
Each site is hosted on unique premium hosting in multiple countries with multiple A/B class IPs.
TLDs such as .com, .net, org are used. 
All major link crawlers are blocked for additional protection
OBL on homepage are kept at 12-16 randomly
100% privacy assured with random/whois protection applied to all domains. 
The posts can be drip fed from 3 days to one month duration.
We create unique articles that are copyscape free.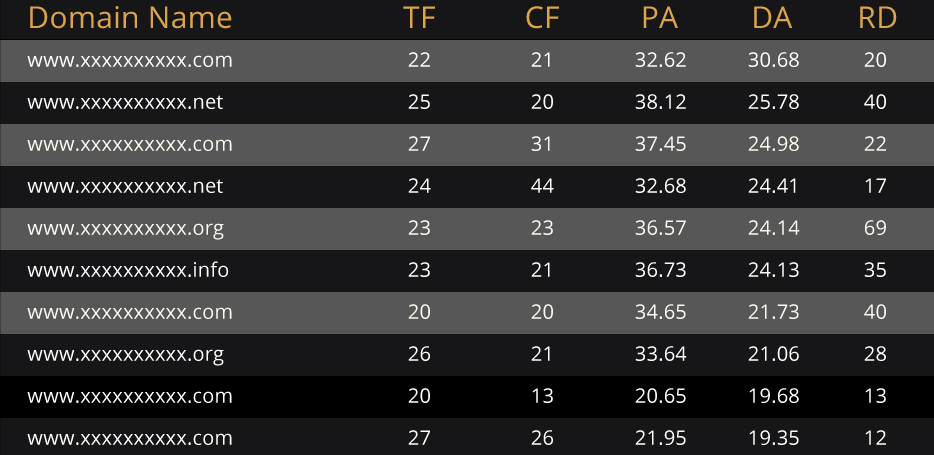 Rookie Package ($67): 
Intermediate Package ($130): Please click extra gig
Professional Package ($210): Please click extra gig
Important Notice (PLEASE READ!)
1. What about the content?
We prepare the content with the help from our house team, we use a custom solution to generate unique readable articles for each post we add for you
2. Are these links good for ranking foreign sites?
Yes, they are. We can work on foreign sites, though the content will be in English and we could keep the anchors intact. 
3. Do you provide reports?
No, You're not going to get a link report for these sites. You will receive a screenshot report. 
4. Are these links permanent?
Yes they are. You only pay once and they will stay alive permanently. 
5. What about the turnaround time?
Every order will start dripping within 3-5 business  days. You will receive updates depending on the drip feed period you select. 
6. How many URLs and anchors can i Provide?
As many as you want. It's best to link to your home page and inner URLs randomly.
7. Refund policy?
Once we provide the service, no refunds will be available.
---
4 hours
AverageResponse Time
---
---
Once work has started, no refund will be made.
Other services by OutsourceEnterprise